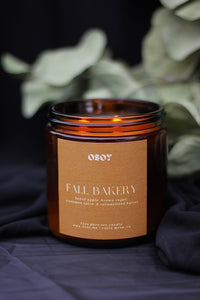 Where home meets the harvest...
Picture this: a crisp autumn afternoon, a cozy kitchen filled with the warm aroma of freshly baked apple pie, and a candle that effortlessly captures the essence of this comforting scene. Allow me to regale you with the enchanting tale of the "Fall Bakery" candle, an olfactory masterpiece that transports you to a quaint bakery nestled amidst the golden foliage of fall.
With each gentle flicker, the "Fall Bakery" candle reveals its hidden treasures. It's as if the quintessential American baker invited you into their charming shop, and the scent of their apple pie, made with love and care, envelops your senses. The scent profile is a harmonious symphony of apples, brown sugar, and butter, flawlessly blended to recreate the magic of a cozy autumn day.
The apple notes are crisp and inviting, reminiscent of freshly picked orchard apples, their sweet and slightly tart aroma infusing the air. As the candle burns, the subtle undercurrents of brown sugar and butter emerge, creating a rich, caramelized sweetness that dances on your senses like a golden autumn breeze. This fragrance, artfully encapsulated in a meticulously crafted candle, is a testament to the finer things in life.
This product is available.