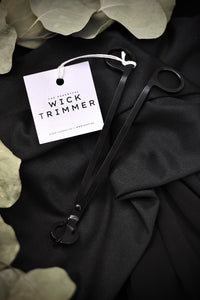 My new favorite candles
I finally found candles that don't bother my allergies or migraines. They are Suttle, smell amazing and don't have that synthetic smell. I'm looking forward to buying more in the future after the holidays.
How did I live without this?
I was skeptical of the wick trimmer. I figured I had scissors. I would trim and then have to clean the wax and soot off of the scissors dulling them in the process. Inevitably with the scissor use, pieces of black burnt wick would end up in my candle. Enter the wick trimmer! Then these went on sale and I threw them in my bag with my candle haul. What a game changer!! These are heavy duty and made for their job! The ends trim and collect the trimmed pieces so no more mess in your candle. Yes, I wipe them off after use but they are supposed to get wax and soot on them. If you burn candles often, you need to have one of these in your collection. I opted for the black due to concerns over dirt but I secretly lust after the rose gold.
This product is available.